Note added 12-17-14: My Mensa-smart sister Pat recently advised me that there are certain things I can get away with saying live and in-person, but they don't always come off well in an article where no one can see my smiling face. This post is a good example of what she was talking about, but I like it anyway, and it was fun to write.
You probably don't read all the comments on my blog, but if you do, you already know about the comment from Mr. PR Intern at CreateTWO asking if I want a SolaRadiance planter. Well of course I want one! I also want answers to a few questions regarding your confusing comment. First you said, "… we suggest planting mums in your SolaRadiance planter." And then later you said, "We know that creative bloggers like you will find unique ways to use our planter, and we want to see them!" What? Make up your mind man. Which is it? Don't get me wrong; I love mums, but they're unimaginative. Now this is a creative planter.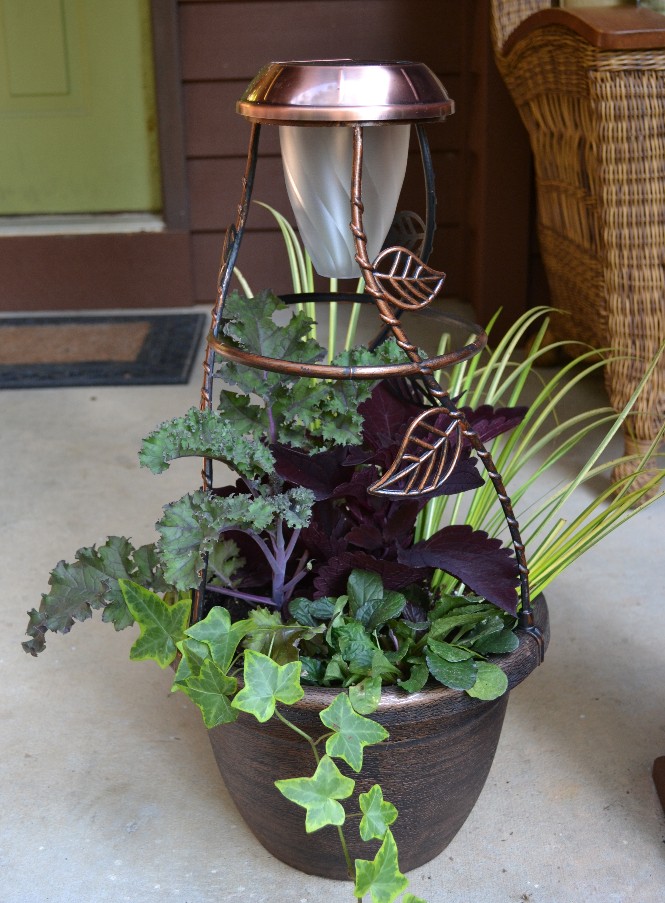 You also say, "I think you'd be a perfect candidate for the SolaRadiance Gardener's Challenge!", but then you say nothing more about it. If this is a challenge, what are the rules? When does the contest end? Who picks the winner? Is there a prize? Are you thinking to yourself, "Prize? Didn't we just give her a free planter? This woman is a ho."?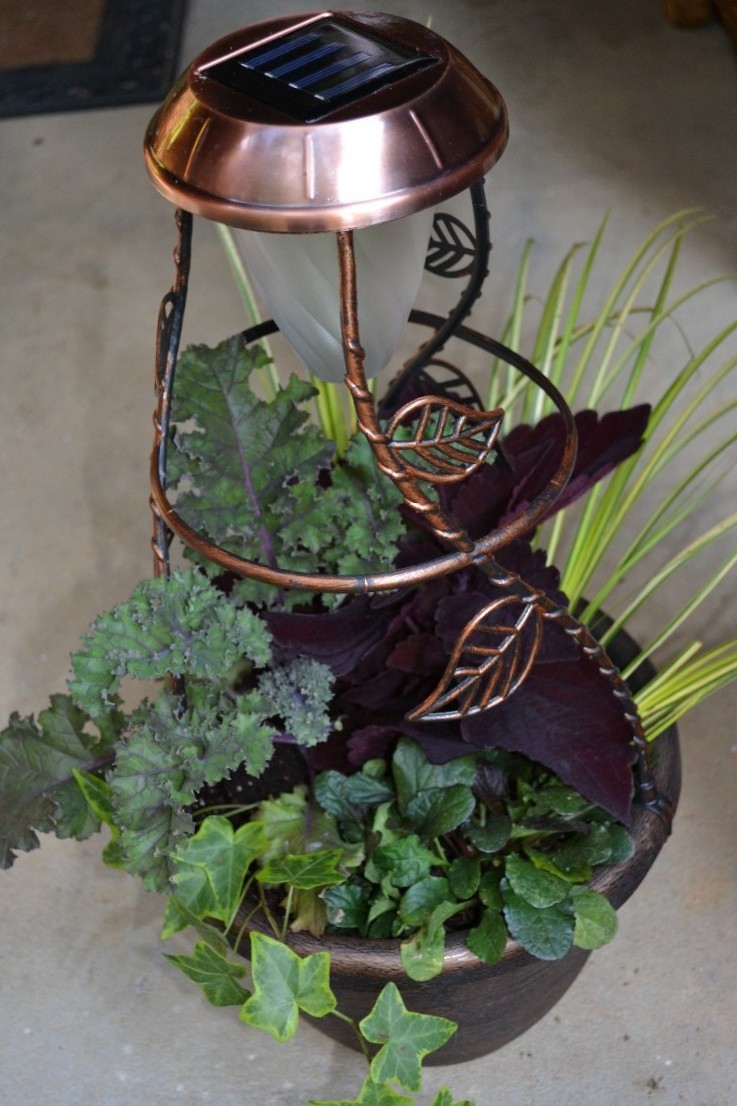 Damn straight I'm a ho, and I want a prize.  ;~)  This is prize-winning stuff right here, and it's going to look good a lot longer than a pot of mums.
I'll have to transplant the flowering kale, 'Redbor' when it gets too big, but I love how it looks with the little ajuga and the gold tones in the sweet flag and ivy 'Gold Child'. That dark coleus 'Colorblaze® Marooned™' was part of last year's free plants from Proven Winners, and it's a most excellent color echo for the purple vein in the kale.
Another reason I deserve to win this challenge is that after I transplant that kale and frost takes the coleus, I can just fill the hole with pansies or something else and sail through to spring. The sweet flag, ajuga and ivy are all evergreen.
I'm willing to accept more planters as my prize. In fact, I would like that very much. It's a cool idea to sprinkle them around the garden as night lights, and being the grand prize winner of this challenge, I deserve more planters. – You have my address.
Note to Mr. PR Intern: Thanks for the planter! And if your boss scolds you for writing such a confusing comment, tell him that you are a marketing genius and did it on purpose to make me talk about the planter for an entire post.