The nice lady from radiology said maybe my broken wrist was God's way of telling me I need to slow down. Well, I think Someone needs to work on His communication skills.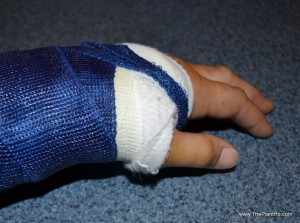 It happened last Wednesday. I was in Florence visiting with Maria Wall.  I first met Maria in 2011 when my garden club toured her amazing moss garden, and I wrote a post about it. Maria loved the part where I said, "If I wanted to talk to God, and all the churches were closed, Maria Wall's garden would be the next best thing." We have been friends ever since.
Maria and I had just finished a lovely lunch and were beginning to walk in the garden. She's very generous and offered me some plants. – Isn't it strange how one little decision can change everything in an instant. If I had just chosen a different shovel, it wouldn't have collapsed, I wouldn't have tried to break my fall with my left hand, and I wouldn't have found myself on the ground rocking back and forth in pain, cradling my wounded wrist.
Maria doesn't drive but she insisted on coming with me to the hospital. My daughter Monica's Facebook post said that I was a "bad ass" for driving myself to the hospital, but truthfully I barely made it. When I pulled into the wrong building a good Samaritan noticed I was about to pass out and insisted on driving us to the emergency room. She came back several times to check on me and once more at the end of the day to see if Maria needed a ride home. She wasn't the only one looking after Maria and me. All the nurses and doctors at Eliza Coffee Memorial Hospital were wonderful, and I thank them for their care and kindness.
I don't understand what God is trying to tell me, but He's certainly got my attention. Now, if He would just speak a little clearer…