Happy New Year! The first blog post of the New Year should celebrate the occasion by looking back or looking forward or maybe telling stories from the New Year's Eve campfire party. – Not happening. – I'm looking forward.
Last week I posted on my other blog, 'Peggy's picks – Tales from a Plant Ho' about two of my goals: growing more of my own food and getting chickens. But realistically there are only so many hours in a day, and I have so many goals. Are those the two that I should start with? My blog has helped me sort through things in the past, so I'm hoping that will happen again.
One of my main goals is to finish the area beyond the front garden. You've seen how pretty the front garden looks,
but just beyond the front garden is a big bed that's empty except for a propane tank buried in the middle and a small Japanese maple.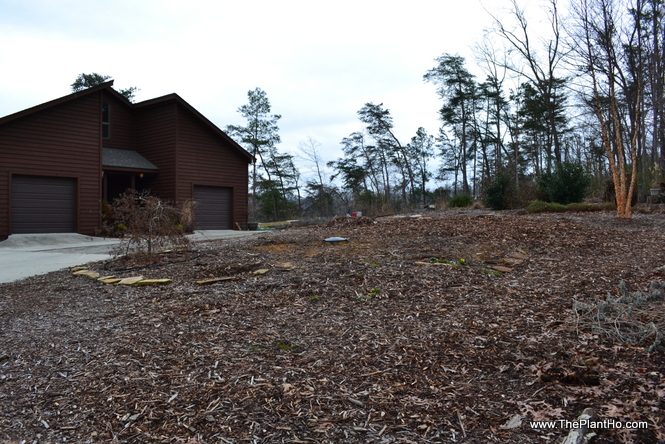 The plan is to add a 12 feet square pergola and a square table for 8, all centered over the lid of the propane tank, but instead of chairs we'll have swings. It's the swing bar.
The conundrum is that Dale thinks we should level the ground under the pergola, but I think that's a lot of extra trouble, and I'd need to lift the maple, and we could just level the pergola and the table….Who's right?…We don't know…That's why it's a conundrum.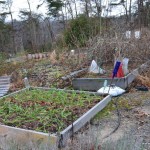 Another big project for 2014 is to clean up the vegetable garden. The beds are falling apart, and it's a mess. I usually crop the pictures I post here, but just this once I'll show you what a freakin' disaster it is.
A smaller project is to build a 12 feet long picnic table for this area.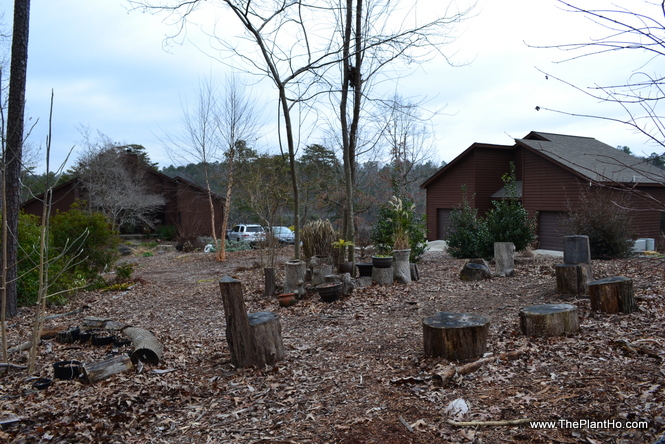 We'll use the cut logs for the head and foot of the table, but I want to buy some side chairs.
If this is your first visit to my blog, you picked the wrong day. Normally I wouldn't post these next pictures but I already showed you the vegetable garden, and every gardener has areas like these. It's just that mine are bigger and messier than most.
Another goal is to hide those areas. I've thought about building a wall where that rotting log is in the last picture. Maybe something like Phillip Oliver's wall?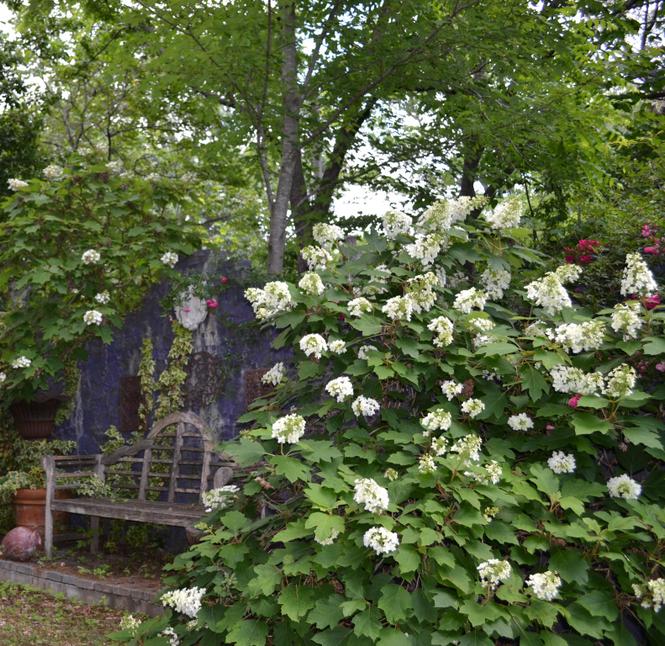 It would be the back wall for the dining area, and it would hide the nurseries. Or I might add a chicken coop / potting shed combo and hide stuff behind that, but I'm not sure if I want chickens that close to the dining area. What if they smell?
If you are a first-timer, and you're still here, know that I usually post pretty pictures like this: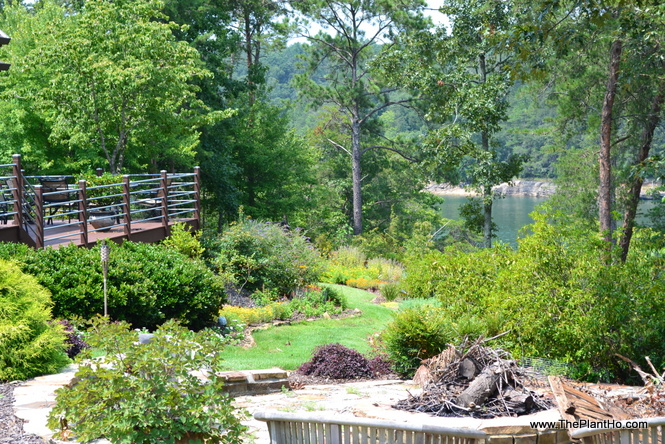 Not ugly ones like this: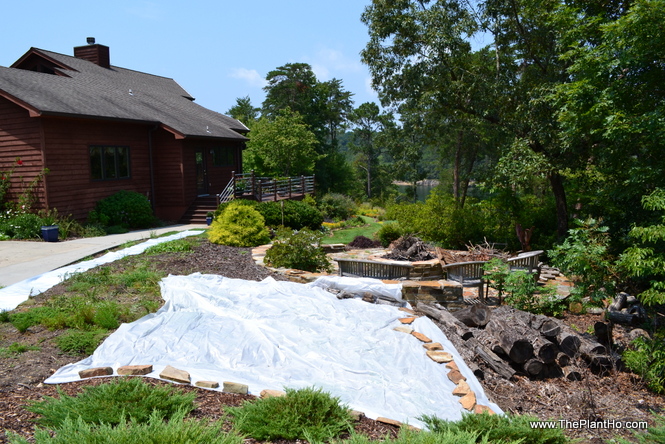 Those last two pictures are from a post I made in August of 2011. I explained that I was going to use solar sterilization to fry the weeds AND their seeds. Well….that didn't work. But then I learned that you can't just put rocks around the edges to hold down the plastic; you need to bury them. So the next year we tried that, and it didn't work either. The weeds enjoyed their little greenhouse, and I could see them growing and flowering under the clear plastic. – That pissed me off. – Last year we tried once again, but this time we used black plastic so at least I didn't have to look at the damn things. It's time to take the plastic off and do something with this space.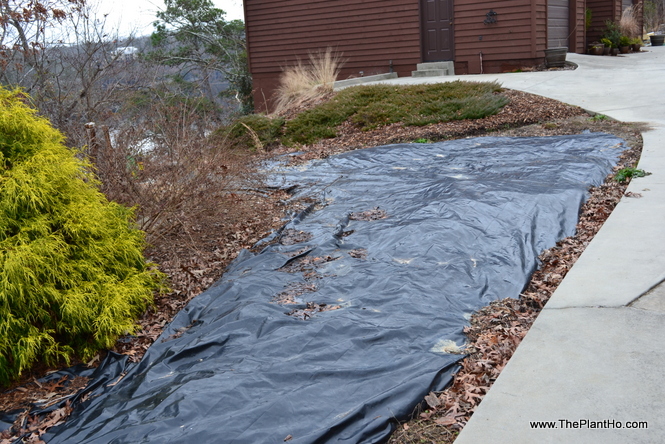 It gets full sun all year so I've thought about putting a greenhouse here, but I've also thought about planting a rain garden here because much of the run-off from the driveway drains here….Oh I don't know….I can't decide.
One thing I'm certain about is that I want to add a big bottle tree like this one I saw at the Huntsville Botanical Gardens last spring.
This next picture was taken from the doorway that opens to the deck, and I marked where I want the bottle tree. What do you think?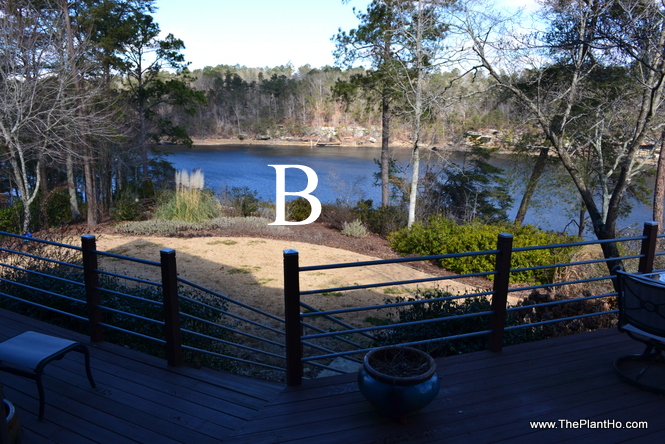 So recapping, these are my gardening goals:
Grow more food
Get chickens
Add a swing bar
Get a greenhouse
Get a table and chairs for the dining area
Do something with that area next to the garage
Hide the mess in the nurseries
Clean up the vegetable garden
Replace the raised beds that are rotting
Add a bottle tree
Finish the steps in the moss garden
Finish edging the border garden
Build an arbor for the entrance to the woodland garden
I didn't talk about those last three because this post – just like my list of goals – is too long already, and writing it didn't help anything. I'm still confused about exactly what I want to do and where I should start. The only thing this blog did for me was change me from feeling busy to feeling overwhelmed.
And I just remembered that I'm still running the gratitude mini-series. What the heck am I thankful for here?
I'm thankful that my problems are so insignificant.